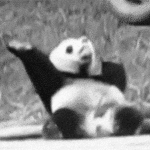 Queen M

109

Actief

"I am SHOOKETH"

Onderwerp: Power saving mode [OPEN] do 6 jul 2017 - 20:42

---

Als Underkit iets was dan was hij wel een dooie schildpad. De rode haarbal was altijd wel een slome geweest maar nu hij de anderhalve moon had aangetikt bleek dat hij nog even lui was als toen hij nog maar net geboren was. De meeste kittens waren met de eerste moon niet te harden, om de seconde moesten hun moeder ze weer terug hun nest in trekken maar Under niet. Hij vond het wel prima zo een beetje rondhangen. Hij hoefde niet perse op verkenning daar had hij de tijd wel voor wanneer die leerling werd. Het klonk allemaal zwaar werk om leerling en daarna warrior te worden. Nu kon hij tenminste uitslapen, een middagdutje doen, wat eten en dan nog een middagdutje doen tot hij weer kon eten. Het was zijn dagelijkse schema geworden. Waarom al zijn energie en uren verspillen aan verstoppertje of andere stomme spelletjes als die ook kon eten en slapen? De rode tom hield zijn schouders op en keek met een ongelofelijke blik naar de andere kitten die als skippyballen heen en weer stuiterde.
Demi

1894

Actief

"I was not born to be forced. I will breathe after my own fashion. Let us see who is the strongest."


Onderwerp: Re: Power saving mode [OPEN] vr 7 jul 2017 - 21:14

---

Dus, zijn tante had een stel halfclanners op de wereld gezet. Hij had direct aanstalten gemaakt om haar erover te veroordelen, maar had zichzelf vervolgens tegengehouden. Ze wist zelf wel waar dit toe kon leiden, dat het een slecht idee was geweest. Maar ze wist ook dat ze nu niets anders kon doen dan een uitstekende moeder zijn voor haar kittens. En tot nu toe was dat precies wat ze deed. Quietstep had zich dan ook voorgenomen om haar te helpen waar hij maar kon. Zo af en toe ving hij wat extra prooi voor haar en kwam hij haar en haar kleine nestje opzoeken. Ook vandaag kwam hij een kijkje nemen en direct zag hij Underkit al zitten. Het jonge katertje was rustig, levenloos bijna. Terwijl alle kittens heen en weer stoven en op en neer sprongen, keek Underkit in stilte toe. Quietstep vroeg zich af of er iets mis was met de kater, of of hij gewoon ontzettend lui was. "Hé, Under," groette hij het rood-witte katertje. Hij leek de andere kittens te observeren. "Heb je geen zin om met de rest te spelen?" luidde zijn vraag, terwijl hij zijn neefje aankeek. Ergens begreep hij het wel, kittens konden ontzettend vermoeiend zijn.

i can't explain what i mean

and even if i could, i'm not sure i'd feel like it