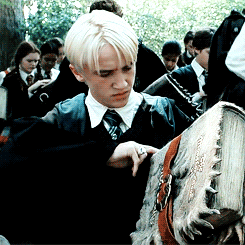 ✮ Draco Malfoy

72

Actief

✮ My father will hear about this!

Onderwerp: ✮ Where's my mind? Maybe it's in the gutter wo 26 sep 2018 - 20:03

---

BELLYACHE
whitekit




Slither kwam met twee vissen tussen zijn kaken geklemd het kamp binnen. Zijn vacht droogde langzaam maar zeker op in het zonnetje. De kater legde één vis op de stapel neer en nam er één mee richting de nursery. Hier gaf hij hem aan een queen, zoals dat hoorde van nette warriors. Toen hij op weg was naar buiten, merkte hij echter dat hij achtervolgd werd. Subtiel wierp hij een blik over zijn schouder. Het was één van de nieuwere kittens, die wel wat van hemzelf weg had. Hah. Oké.

All we do is drive - all we do is think about the feelings that we hide - all we do is sit in silence waiting for a sign -sick and full of pride - all we do is drive - we walk as tall as the skyline - and we have roots like the trees - you should f*ck me tonight - let's pretend we're in love - i'm only human - don't put your blame on me
M

53

Actief

"Can't help that other people don't understand how truly awesome I am."

Onderwerp: Re: ✮ Where's my mind? Maybe it's in the gutter do 27 sep 2018 - 19:50

---




De tom had zijn ogen niet van zijn doelwit afgehaald sinds deze de nursury binnen gewandeld was. Het was een grote witte sterke kater dat hem deed denken aan zich zelf. Whitekit was natuurlijk de sterkste, zeer knapste en beste kitten die Riverclan ooit gehad heeft. Deze witte onbekende kater was gewoon zijn spiegelbeeld, enkel.. volwassen? Ja! En ook andere gekleurde ogen dan. De onbekende warrior verdween weer en Whitekit zette de achtervolging in. Sluipend volgde hij de tom die meer op zijn vader leek dan zijn echte. Wow. Kon dit zijn papa zijn? Vast. Mama had gewoon gelogen over Bluedusk, deze kat moest het gewoon zijn. Er werd over de schouder gekeken en veranderend in een levend standbeeld stond Whitekit op zijn noodrem. Oeps, Gesnapt. Hehe.