Bo3

3421

Actief

"I'm forced to deal with what I feel"

Onderwerp: Wolves [Tigerclaw] do 11 jul 2019 - 23:37

---

Met een gefrustreerde grom haald Amber zijn nagels over de bast van een boom. Hij had geen goede dag, veel zat tegen en hij had een zinloze discussie gehad vanochtend. Daarom had hij het kamp verlaten en geprobeerd alles op een rijtje te krijgen. Maar het was niet echt gelukt. Nu liep de kleine kater met een geïrriteerde pas tussen de bomen door. Hij hoopte dat hij niemand tegen zou komen, niemand hoefde hem zo te zien. Maar het geluk was niet aan zijn kant, want hij rook de onmiskenbare geur van een shadowclan Warrior.

Art:

Bedankt Robin! Thanks Rebecca!Thanks Marlie!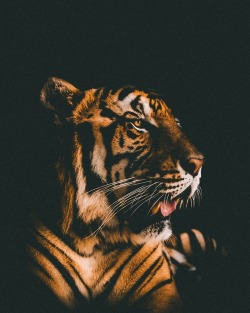 Mark

127

Actief

"The end."

Onderwerp: Re: Wolves [Tigerclaw] vr 12 jul 2019 - 10:27

---

Tigerclaw gaf een laatste lik over zijn poot heen voor hij zijn lichaam ophees en het kamp uit stapte. De tom had zijn gestreepte pels een wasbeurt gegeven, vannacht had hij namelijk met een patrouille in het moeras gejaagd waardoor zijn lichaam half besmeurd geweest was met modder. Nu was hij weer schoon en een stuk aantrekkelijker voor de dames. Immers was de tom opzoek naar een vrouwtje en je wist maar nooit wanneer je die tegenkwam, hij moest er altijd knap bijlopen voor het geval dat. Niet dat Tigerclaw opzoek was naar liefde, laat staan een vast relatie. Nee, hij wou enkel de poes gebruiken zodat zij sterke kinderen voor hem kon werpen. Daarna kon ze mooi weer de hoek in net als bij kinderen die klaar waren met het spelen met hun speelgoedje. Jammer genoeg zou de tom vandaag zijn slachtoffer niet vinden want zijn plan werd onderbroken door een rode pels dat geïrriteerd tussen de bomen heen zigzagde. De sterke tabby duwde zijn oren in zijn nek en bromde. Fijn. Had hij weer.. De tom wou zich omdraaien en zich absoluut niet mengen met de problemen van Amberhunt tot een belletje bij hem ging rinkelen. De rode tom had nu oplopende emoties, wie wist wat hij de ander wil inpraten kon. Tigerclaw greens kort voor hij naar zijn clangenoot afstapte en hem aankeek met opgetrokken wenkbrauw. "Kopzorgen?" Vroeg hij laag.
Bo3

3421

Actief

"I'm forced to deal with what I feel"

Onderwerp: Re: Wolves [Tigerclaw] vr 12 jul 2019 - 21:47

---

De plotselinge stem zorge ervoor dat Amber stil bleef staan en nadacht. Razendsnel wist hij de stem te plaatsen: Tigerclaw. De oudere kater vroeg of hij kopzorgen had. Langzaam draaide Amber zich om en probeerde zich te kalmerem. Hij keek de ander recht aan en knikte. Natuurlijk was het Tigers's zaak niet, maar dat kon hij uiteraard niet zomaar zeggen. "Het gaat wel, ik moest gewoon even wat tijd voor mezelf hebben" Hij keek de ander onderzoekend aan. Hij kende hem niet echt en wist absoluut niet wat hij van Tigerclaw moest denken. Wel wist hij dat Tiger zelf sowieso dacht dat hij de kleine warrior makkelijk aan zou kunnen.

Art:

Bedankt Robin! Thanks Rebecca!Thanks Marlie!