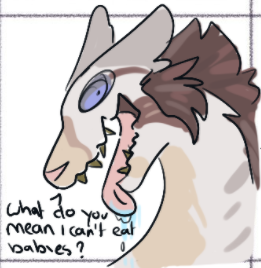 m

884

Actief

You'll be dead!

CAT'S PROFILE
Age
:
40 moons
Gender
:
Tomcat ♂
Rank
:
General of the Armies
Onderwerp: [search 2] klikspaan di 19 nov 2019 - 11:48

---




Heyjo, me again!

Ik ben nogmaals opzoek! ditmaal voor iemand die ik verklikken kan in Bloodclan o:
Orchis is namelijk druk bezig om zijn halsband vol te krijgen omdat hij totaal geen z i n heeft om in de aankomende winter buiten te slapen. Daarbij wilt hij zijn positie in BC graag omhoog krikken en omdat hij nogal moeite heeft om andere respect in te slaan moet hij het dus op een andere manier doen. De eerste vier tanden moet ik claimen voor ik veder kan gaan met de rest en dus zoek ik iemand die hij verklikken kan omdat een young one trainen realistisch gezien niet echt goed zal gaan.

Liefs, Marlie

- out.