☙Emma☙

17100

Actief

"Never gonna give you up, never gonna let you down"

Onderwerp: Here, where the world is quiet; zo 26 apr 2020 - 1:31

---

De kater keek even om zich heen en strekte zich toen uit. Een glimlach op zijn gezicht hoewel die zijn ogen niet volledig bereikte. Het irriteerde hem, deze katten in zijn kamp. Elk individu maakte dat zijn poten jeukten aan de slag te gaan met een soort neurotisch schoonmaken. Hij wilde niet dat ze hier waren, evenmin als dat de rest van zijn clan dat wilde. En toch was het nodig. Dat wist hij, dat wist Bloodclan, en dat zou Shadowclan snel genoeg begrijpen. Om deze reden duldde de kater ze. Het uitschot. Zelfs degenen die hij zonder pardon voor een monster zou gooien. Tall kon best inschikkelijk zijn als het nodig bleek.

- Orchis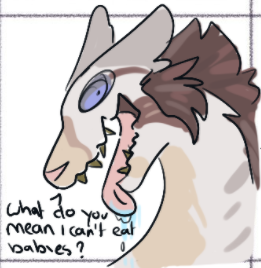 m

796

Actief

You'll be dead!

CAT'S PROFILE
Age
:
30 moons
Gender
:
Tomcat ♂
Rank
:
General of the Armies
Onderwerp: Re: Here, where the world is quiet; ma 27 apr 2020 - 18:37

---

Een vlinder vloog voor zijn ogen voorbij. Hoewel het kamp vol zat met verrotting en dood was er toch nog een vlindertje die zich hier vredig door heen dwarrelde. De tom stond op en volgde het beestje. Hij fladderde wat rond en geïnteresseerd volgde zijn blik. Zijn poten danste mee in de rondte. Zijn pasjes waren springerig en lomp. Net als een konijn die zijn poot gebroken had. Orchis zakte door zijn lichaam heen en duwde zich af: hij kwam in de lucht, hoog, en zweefde voor een seconde net als de vlinder in de lucht.. voor hij hard zijn kaken op elkaar klemde als een woeste hond. De vlinder verslindend tussen zijn tanden. Een vleugeltje stak nog half uit zijn bek toen hij weer op de grond stond en zijn vacht uitschudde. Zijn blik ging naar Tallstar. ''Had jij soms een hapje gewild?'' Vroeg hij terwijl hij de vlinder's vleugel voor zijn poten uitspuugde.
☙Emma☙

17100

Actief

"Never gonna give you up, never gonna let you down"

Onderwerp: Re: Here, where the world is quiet; za 2 mei 2020 - 2:08

---

Oh en als er toch een kat was die wat Tall betrof met de eerstvolgende bus meemocht naar hel dan was het de kater recht tegenover hem. Met die vuile blik, vieze poten en afzichtelijke haarstijl. Alleen al dat laatste was genoeg om hem kansloos te maken, maar in combinatie met de persoonlijkheid van een wortel.. ugh. Tall kon niet zo goed met deze specifieke Bloodclanner, maar wist het alsnog in zich op te brengen lief te glimlachen toen deze hem vroeg of hij soms een hapje had gewild. Van hem ja. "Nee ik zie in waarom je alles moet vangen wat er te vangen valt, het is niet alsof het je buiten het kamp lukt," Oke misschien iets minder diplomatiek, maar het was vermoeiend te doen alsof je iemand mocht die je niet uit kon staan.