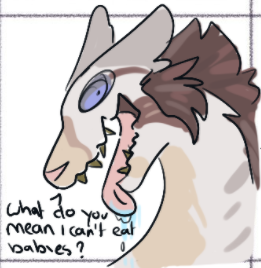 m

797

Actief

You'll be dead!

CAT'S PROFILE
Age
:
30 moons
Gender
:
Tomcat ♂
Rank
:
General of the Armies
Onderwerp: Waarna hij het biggetje opeet. vr 15 mei 2020 - 14:48

---

Het was al laat in de Ni-Frith toen Orchis het kamp in gehuppeld kwam. Zijn buik was aan het knorren van de honger en schuimend was hij op zoek naar een hapje eten. Sinds de aanval van de drie andere clans was er weinig prooi binnengehaald, dat betekende dat hij zelf had moeten jagen en dat was natuurlijk niet succesvol afgelopen. Hij had zelfs in een threar geprobeerd te klimmen toen hij een vogelnestje met eieren had gespot maar na een meter al was hij hard op zijn reet gevallen. Hij liet een aanstellerend sisje klinken toen hij met zijn beurse achterwerk ging zitten. Als hij niet snel te eten kreeg zou hij zo dadelijk aan zijn eerste kannibaalse maaltijd beginnen.

+ Fuzzypaw
Onderwerp: Re: Waarna hij het biggetje opeet. do 28 mei 2020 - 16:42

---

Fuzzypaw

I'm looking over my shoulder, as paranoid as a criminal

Oh ze was zo bang geweest tijdens het gevecht. Maar het had goed uitgepakt. Het was goed geweest, ze had Chillypaw beschermd. Dus dat was al een giga opluchting geweest. Ze had geen problemen meer gehad met de bloodclan kater die haar had geforceerd om te vechten met de riverclanner. Maar nu kwam het volgende probleem weer op steken. Honger. Ze kreeg de restjes van wat bloodclan over liet. En veel was het niet. Ze slikte even terwijl ze met haar restje liep, tot er een knorrige maag te horen was in haar ogen en ze opzij keek. Een BloodClan kater lag daar. Met een knorrige maag. Meteen begonnen haar poten te trillen. Als ze dit niet aan hem zou geven dan… dan zou hij iemand anders wat aan doen.. toch? Dus voorzichtig en overduidelijk angstig liep ze op de kater van Bloodclan af, waarna ze haar kleine beetje vlees voor hem neerlegde en meteen een paar stappen achteruit zette. "Uhm… uhm… hier…. Alstublieft.. m-meneer." sprak ze zachtjes en angstig. Als ze hiermee kon voorkomen dat hij achter andere katten aan zou gaan zitten? Dan zou ze wel wat langer honger lijden. Dan had ze dat daar wel voor over. Zelfs als ze doodsangsten moest doorstaan door alleen al hier te staan voor hem.