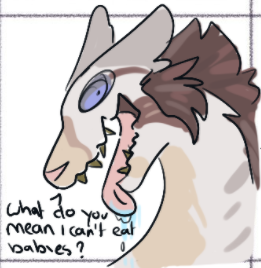 m

792

Actief

You'll be dead!

CAT'S PROFILE
Age
:
28 moons
Gender
:
Tomcat ♂
Rank
:
General of the Armies
Onderwerp: ∆ TASKS - A hundred blinking beady rat eyes. wo 1 jul 2020 - 17:31

---

Een speciale taak voor een speciaal iemand. Morrigan, oh oh Morrigan toch, nakomelingetje van die slang en diens doorgedraaide vrouw. Vandaag krijg jij een taak, eentje die enkel speciaal voor jou bedacht is. Als kind van een sterke bloedlijn zal jij vandaag extra getest worden, maar wees gerust hoor! mocht het niet lukken.. dan weet niemand het, enkel Orchis weet wat jij vandaag moet doen.

Bij de boerderijen, verstopt tussen twee schuurwanden zit een grote rattenhol. Orchis wilt dat je minimaal eentje vangt, als het lukt mag je als beloning de prooi zelf op eten.

The Red Queen

7

Actief

Child born from darkness whose path she must find

Onderwerp: Re: ∆ TASKS - A hundred blinking beady rat eyes. za 18 jul 2020 - 15:03

---

Ze had een specifieke taak gekregen. Geen idee waarom of hoezo, maar het deerde haar niet zo veel. De zwarte kattin wist dat ze toch al met de nek werd aangekeken. Niet iedereen was zo kien op wat er met haar ouders gebeurd was, iets waar zij niets mee te maken had gehad. Wel vroeg ze zich inmiddels af wat er met Indigo gebeurd was, maar gezien de tijd dat ze al weg was, had Morrigan haar zusje voor dood verklaard. De zwarte kattin schudde haar vacht uit en keek naar de schuur voor haar. Ze had de opdracht gekregen om een plaag ratten op te lossen, iets waarvoor ze zichzelf eigenlijk net té goed voelde, maar aan de andere kant was het ook leuk om weer eens kinderlijk alles dood te mogen maken. Ze grijnsde haar opvallend lange hoektanden bloot en liep naar voren toe. Als ze een rat te pakken had gekregen, zou ze die mogen opeten en dat was waarschijnlijk hetgeen waar ze het meeste naar uitkeek. Ze kon de smaak van ijzer in haar bek bijna proeven en het verlangen ernaar maakte haar bijna duizelig. Een kleine grom verliet haar bek, terwijl ze haar zwarte vacht opzetten en de schuur binnen liep. Direct werd ze overspoeld door het bijna krijsende gepiep van de ratten. Ze gromde nog een keer en sprong tussen het ongedierte. Enkele beten zich vast in haar vacht, maar er waren er niet veel die erdoorheen kwamen. Ze sloeg om zich heen, haar klauwen uithalend naar de dieren. Ze voelde bloed tussen haar klauwen kleven en begon zachtjes te beven. Haar rode ogen waren groot van opwinding terwijl ze beet in de eerste de beste rat die ze te pakken kon krijgen. Met een snelle beet had ze het diertje dood. Morrigan nam een hap uit de rat, kauwde langzaam op het vlees en voelde het bloed langs haar kaken gaan. Oh, heerlijk was 't toch. Zo pakte ze nog een rat, en nog eentje. Totdat er een kleine cirkel aan dode ratten om haar heen lagen. De rest was gevlucht, maar diegene die er nog waren probeerde zo snel mogelijk weg te komen van het zwarte gevaarte. De kattin likte haar lippen af, het beven was gestopt. Ze voelde zich machtig, niet te stoppen. Totdat ze begon te hoesten.

"I'm not interested in methods of dying. All that matters is when death takes place, not how."