Yanthe

219

Actief

Onderwerp: Pluto is not a planet za 4 jul 2020 - 22:24

---

Haar lichte staart zwiepte heen en weer. Jep, haar confrontatie met Orchis had voor wat frustraties gezorgd. Ze was vroeg haar barn uit gegaan om iets een prooi te fixen en nu zat ze met lichte frustratie haar prooi te verorberen. Haar lichte vacht op haar snoet kleurde rood van het bloed van de prooi die ze gevangen had en nu aan het openscheuren was. Haar lastig vallen met stomme vragen was nu absoluut geen goed plan. Haar oortjes wezen lichtje naar achteren. Natuurlijk was Orchis niet de enige reden van haar frustraties. Haar vader had de Elite verlaten, was door Brat verbannen. En natuurlijk het feit dat ze de strijd in het Shadowclan kamp verloren hadden, sloot het lijstje mooi af. De reeks van tegenvallers zou nu wel eens mogen stoppen. Tijd om terug iets te bereiken, tijd om de beentjes nog eens los te gooien.

Coa eerst, nadien open

єxpєct thє unєxpєctєd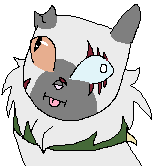 Ema

99

Actief

"May guilt plague you for your great crime, as the time for my vengeance is nigh..."

Onderwerp: Re: Pluto is not a planet za 25 jul 2020 - 15:11

---

Het was weer een dag, een dag in zijn leven die weer eens saai was. Hij verveelde zich dood. Hij wilde iets leuks doen, iets geweldadigs, een act te bewijzen dat hij niet dom was of iets anders spannends en cools.  Daar zag hij dan een witte kattin haar prooi verorberen en de wit met grijze kater liep erheen. "Hallo Nyra", begon de bloodclanner kalm. "Enig idee wat ik kan doen om mijn verveling te vermoorden?". Dit was waarschijnlijk zijn kalmste approach ooit, maar dit is ook de eerste kat waar hij naartoe liep die ouder was dan hem met meer dan twee moons. Hij had geen idee dat ze de dochter van de verbanneling was, had ook geen idee dat Commandant Speciality haar had aangesproken, maar wat hij wel wist, en wat hij deelde, was het verlies van de battle met ShadowClan. Ze waren overduidelijk sterker, maar die boskatten hebben natuurlijk altijd hun sneaky plannen. Waarom moest het licht altijd winnen, waarom kreeg het duister nooit een kans.