Heya all,
Een tijdje geleden is er een grote give away geweest voor Mole haar broertjes en zusjes. Het idee was dat ik haar zelf zou gaan oppakken. Iets wat ik heb geprobeerd, maar toch niet aan toe ben gekomen. Daarom wil ik nu graag een goed huisje voor haar vinden.
Maar wie is Molepaw?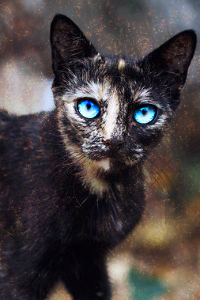 Molepaw is een kortharige tortie met blauwe ogen die nu als tunneler traint in WindClan. Ze is een wat onzekere, jonge kattin door haar bijziendheid en de pleegdochter van Shadefeather. Ze heeft 3 zusjes (Bloodypaw, Frogpaw en Mousepaw) en 1 broertje (Pandapaw).
Nou mogen er natuurlijk wat dingetjes veranderd worden, zoals haar geplande warrior naam of haar persoonlijkheid, maar houdt er wel rekening mee dat ze
erg bijziend
is en dat ook zal blijven.
Wat is dat bijziend nou precies? Denk aan iemand met een bril van -6 sterkte. Alles in de verte is dan een grote waas en het niet goed kunnen focussen met je ogen kan zeker ook voor hoofdpijn zorgen. Omdat ze nog wel steeds kan zien, albeit wat minder, en niet heel veel katten er van afweten op haar pleegvader (en eventueel haar siblings) na, heeft ze aan haar training als apprentice kunnen beginnen. Als iemand haar wilt overnemen laat ik ze helemaal vrij in hoe erg dit later nog gaat worden en of ze hierdoor warrior kan worden of in de elders den zal belanden. Mole zal ook een tunneler worden, iets waar ze dus ook niet persé goed voor hoeft te zien.
Echter zal ze nooit helemaal blind worden tenzij ze een ongeluk krijgt.
Op het moment is ze een onzeker en timide poesje omdat ze niet goed weet of ze wel een goed aandeel voor haar clan kan zijn vanwege haar bijziendheid. Maar dit is ook deels op gang gezet omdat haar siblings zeker een sterkere personaliteit hadden als haar en ze zich een beetje weggedrukt voelde. Natuurlijk is dit helemaal niet het geval, want papa Shadefeather zorgt goed voor al zijn pleegkinders en hij houd ook superveel van ze. Maar zie je die twee kenmerken niet helemaal zitten, dan mag je dat van mij zeker aanpassen.
Dus wat mag wel en wat mag niet?
Do's:
- Personaliteit veranderen
- Toekomstige warrior naam veranderen (zou Molespots worden)
- Zelf kijken hoe erg je de bijziendheid wil spelen.
- Actief zijn
Don'ts
- Haar bijziendheid weghalen
- Haar compleet blind maken
tenzij
dit in rpg gebeurd
- Haar uiterlijk veranderen (kortharige tortie met blauwe ogen)
- Mole laten verstoffen
Ik hoop dat jullie geïntereseerd zijn en dat Mole een goed en actief huisje gaat krijgen.