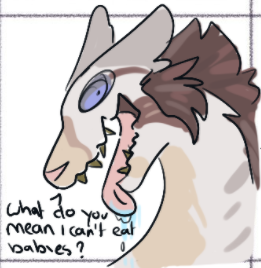 m

884

Actief

You'll be dead!

CAT'S PROFILE
Age
:
40 moons
Gender
:
Tomcat ♂
Rank
:
General of the Armies
Onderwerp: ∆ Task [two] Moros wo 28 sep 2022 - 10:56

---




Herfst lijkt weer in te sluipen en met Orchis dunne huid krijgt hij het wat gauwer frisser dan de rest. Al klappertandend heeft hij vannacht op zijn stoffige bank gelegen. Zijn knuffelmaatje is nou ook niet echt een warmtebron..

Moros mag daarom vandaag richting de boerderijen en opzoek gaan naar warm nest materiaal. De General's voorkeur liggen bij schapenwol en kippenveren. Niet het makkelijkst om aan te komen. Misschien zou hij ook tevreden zijn met wat plukken stro?