Onderwerp: Dominion di 28 feb 2023 - 22:03

---

Dit was niet de eerste keer dat ze zich buiten het nest begaf en elke dag ging ze een stukje verder. Uiteindelijk zou ze het dan ook voor elkaar moeten kunnen krijgen om dit deel van het kamp te verlaten. Maar eerst moest ze er zeker van zijn dat ze geen flater zou slaan als ze daar naartoe ging. Al was het maar dat ze elke dag een stukje verder moest lopen om haar poten sterker te maken. Ze had het deze keer gered tot de plek waar ze grotere katten vaak genoeg doorheen had zien komen. Dit was vast de plek naar de rest van het kamp toch?

[Orchis]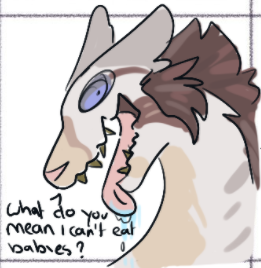 m

906

Actief

You'll be dead!

CAT'S PROFILE
Age
:
48 moons
Gender
:
Tomcat ♂
Rank
:
General of the Armies
Onderwerp: Re: Dominion zo 5 maa 2023 - 15:35

---

You can run but you can't hide

Het was Orchis echt niet ontgaan dat er nieuwe onderkruipsels rondliepen. Skadi had haar werk verricht zoals er van haar gevraagd was. Een loyale hond die zijn clan een pootvol aan nieuwe pups geschonken had. Hij had de dag van de geboorte al bij hen gekeken. Enkel niet van dichtbij. Van een afstandje had hij toe geleurd voor zijn Captain was verhuisd naar de Nursing Service. Daarna had Acefray aan hem de kittens gezond verklaard. Vandaag was het dan is tijd om het nieuwe vlees is te bezichtigen van dichtbij. Orchis liep de Main Base door tot hij bij de achterkant uitkwam. Hier was een opening in de muur met een stenen trap naar beneden. Vanuit hier kon hij al een deel van de openplek bezien van de Nursury. Orchis ging zitten. Zijn oog was al gevallen op een wandelend gevlekt pluisje. Waarschijnlijk op ontdekkingstocht. Orchis was wel nieuwsgierig hoever ze kwam en als ze door zou hebben dat hij bovenaan de trap toekeek.


Onderwerp: Re: Dominion do 16 maa 2023 - 15:12

---

Er was alleen een ding dat haar in de weg zat voor ze echt verder zou kunnen gaan. Ze was nog niet zo groot, waardoor de trap voor haar neus er heel groot uitzag. Hoe wilde ze de hoogte overbruggen? Voor de grotere katten had het zo gemakkelijk geleken. Ze liet haar blik over de eerste trede gaan en strekte kort op haar achterpoten uit en raakte de zijkant met haar voorpoten aan. Het leek er niet op dat het op deze manier ging lukken. Zou springen werken? Maar dan zou ze het bij elke trede moeten doen en dat klonk bijna als te veel moeite. Ze liet haar blik over de volledige trap heen gaan tot ze bovenin een andere kat opmerkte. Voor een moment bleef ze stilstaan, haar blik op de kat gericht houdende. Zou ze proberen een aantal treden op te gaan om te zien of ze boven kon komen? Of kon ze het beter proberen wanneer ze wat groter was?