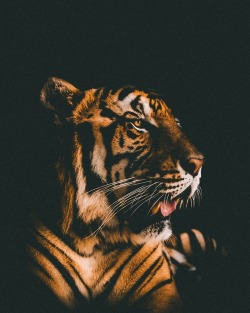 Mark

127

Actief

"The end."

Onderwerp: When in doubt, leave it white. vr 12 jul 2019 - 11:45

---

Grommend drukte de tom zijn grote poot tegen zijn buik aan waar een lange snee liep. Hij was een struik ingevlogen om een duif te vangen maar een scherpe gebroken tak had zijn buik opengehaald. Bloed druppelde vanuit de snee, zijn poot die hij op zijn buik gedrukt had rood kleurend. Hij was nu te ver in het dennenbos om rustig naar de medicine cat den te wandelen dus besloot de grote tabby om wat mos van een rots af te schrapen en dit op zijn snee te plakken. Zo. Klaar was kees. Tigerclaw pakte de duif op -die hij ondanks de verassing van de scherpe tak toch nog had weten te vangen in de struiken- en beet hard in de nek ondanks dat het beestje al dood was. Een hele buikwond opgelopen voor enkel dit brein loze vogel. Verdomme. Tigerclaw beet harder, het gekraak van de botten die verbrijzelde klonk in zijn oren wat de donker bruine tom toch nog een beetje voldoening gaf.

Watercolour
Daniëlle

10

Actief

Onderwerp: Re: When in doubt, leave it white. di 6 aug 2019 - 13:42

---

Jagen was leuk. Tenminste, als je het samen deed. Dit, dit was niet leuk. Waarom was Watercolour er nou alleen op uitgestuurd? Mokkend liep ze door het bos, terwijl ze geuren probeerde op te sporen. Geen prooi, maar wel... bloed? De kattin volgde het geurspoor, dat leidde naar... Tigerclaw? Op het eerste gezicht was er niets aan de hand, totdat ze het mos op zijn buik opmerkte. Hij droeg een dode duif in zijn mond. Het was nogal een raar gezicht. "Aan het vechten geweest met duiven?", begroette ze hem plagend.

Mudpuddle | Moraine | Lilise | Dogpaw | Marshfire | Stonekit | Mourningchant | Watercolour

Watercolour is probably the most satisfying of all mediums. Although difficult in the beginning, after practice its mysteries will unfold, providing the utmost pleasure for the dedicated.