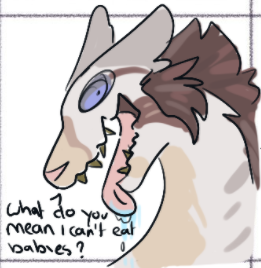 m

773

Actief

You'll be dead!

CAT'S PROFILE
Age
:
28 moons
Gender
:
Tomcat ♂
Rank
:
General of the Armies
Onderwerp: Come cuddle close in my coat. do 12 maa 2020 - 16:26

---

Soms. Soms voelde hij gewoon niks en soms, heel soms, voelde hij een bepaalde emotie. Hij linkte dit gevoel met verveling, omdat dit het meeste beschreef met wat hij hoorde en zag bij andere katten. Hij verlangde naar iets.. omdat hij zich dus blijkbaar verveelde. Een nieuwe dag was begonnen en omdat de aarde nog te hard was om te graven was de grijsbruine tom gaan zoeken naar iets om te doen. Eten kon hij niet vangen, dus jagen sloeg hij voor nu over. Hij wou juist wat leuks doen. Iets wat hem uit deze verveling kreeg en hem weer die fijne emotie gaf. Vandaar dat hij naar clangebied gekomen was. Daar was altijd wel iets spannends te vinden hihi.

+Saffronpaw
Onderwerp: Re: Come cuddle close in my coat. zo 22 maa 2020 - 22:55

---

Het werd de jonge tom allemaal een beetje teveel. Het continue gezeur over dat Bloodclan zo gevaarlijk is en dat ze zich moesten voorbereiden op een aanval. Dit alles was leuk en aardig, maar na een paar weken in "trainings-quarantaine" gezeten te hebben begon het claustrofobie gevoel hem te groot te worden. Hij moest en zou er even tussenuit.
Toen geen ogen meer op de rosse pluizenbol waren gericht, zette hij het op een lopen tot zijn pootjes er genoeg van hadden. Toen hij om zich heen keek merkte hij 4 enorme bomen op. Hij was gearriveerd op de plaats waar elke clan gelijk was. De plaats waar vechten echt niet door de beugel kon. De tom slaakte een diepe zucht en snoof diep, hij was de geur van het shadowclan kamp echt zat nu. De geur die hij binnenkreeg was echter niet heel veel beter, een zeer potente geur die hij nergens kon plaatsen. Snel liet hij zijn blik over het gebied heen glijden, waarbij zijn ogen twee onbekende helder blauwe ogen ontmoette.