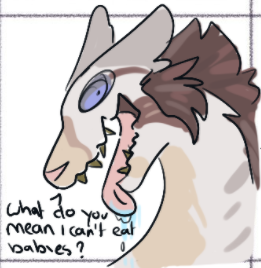 m

918

Actief

You'll be dead!

CAT'S PROFILE
Age
:
53 moons
Gender
:
Tomcat ♂
Rank
:
General of the Armies
Onderwerp: Geven wekt meer blijdschap op dan ontvangen do 1 apr 2021 - 14:20

---

Al vrolijk huppelend was hij de barn ingekomen. Zijn oren stonden blij naar voren gericht en zijn lippen in een glimlach. Hij was speciaal naar het tijdelijke kamp gekomen om goed nieuws te geven aan een speciaal iemand. Hij was daarnet heerlijk wezen jagen en had een goed praatje gedaan met wat members en thunderclanners. Hij was tot conclusie gekomen dat was hij gedaan had helemaal niet zo lief was. Orchis wou het graag goed maken. De tom kwam al glijdend op zijn billen aan bij het nest waar één van de drie kittens lag. ''Birdkit!'' Mauwde hij opgewekt haar naam. ''Goed nieuws! Je mag weer naar Thunderclan toe! Samen met mama en je andere sibs!'' Was dat nou toch niet goed nieuws?
Onderwerp: Re: Geven wekt meer blijdschap op dan ontvangen vr 2 apr 2021 - 17:56

---




Birdkit had haarzelf opgekruld in een klein bolletje. Op z'n minst had ze nu een nest gekregen in plaats van dat ze op de planken moest slapen. Dat was al heel iets beter, maar nog steeds voelde ze zich ellendig hier. Ze keek dan ook geschrokken op toen Orchis aan kwam rennen. Ze dook wat weg in haar nest toen de kater haar kwam vertellen dat ze weer naar Thunderclan toe mocht. Echt waar? Was dat echt zo? Was dit allemaal een boze droom geweest? Een grap? "Echt?" miauwde de kitten ademloos, waarna ze al vlug begon met stralen.