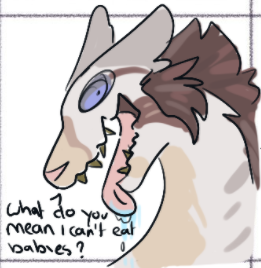 m

907

Actief

You'll be dead!

CAT'S PROFILE
Age
:
48 moons
Gender
:
Tomcat ♂
Rank
:
General of the Armies
Onderwerp: Fresh [open] do 7 apr 2022 - 14:01

---

Het was al tegen de avond aan toen Orchis zich richting de Nursing Service bewoog. Op zijn mondhoeken proefde hij nog de smaak van de verse prooi die hij net naar binnen had gewerkt. Vandaag had hij minder trek gehad en zijn aangevroten konijn van de verhoging gegooid: Alsof hij een bak vol haaien te eten gaf. Zo leek het ook werkelijk, want toen zijn prooi de grond raakte waren er meerdere Members erop af gevlogen om het uit elkaar getrokken konijn te bemachtigen. Normaal als hij dit deed dan keek hij toe, genoot hij van de klappen die uitgedeeld werden voor een stukje vlees. Maar vandaag kon hij de lol er niet uit halen. Hij was vrijwel direct van zijn verhoging afgeklommen en weggelopen. De rest van de clan was zelf nog in midden in hun avondmaaltijden. Het gesmak, het gekrom en gegrauw was nog duidelijk te horen ondanks hij zich van nu de Main Base had afgezonderd. Orchis had het nieuws natuurlijk meegekregen over Aphrodite's bevalling. Vijf gezonde kittens bevonden zich nu in zijn clan. Nieuw, vers bloed. Nieuwe zielen voor zijn helse koninkrijk. De tom was gaan zitten boven aan de trap. Zijn botterige lichaam was verborgen in het donker van de avondval. Enkel zijn blauwe ogen waren wel een lichtbron en keken van boven af rond de openplek van de Nursing Service. Welk van de kittens durfde dit monsterlijk plaatje te bezichtigen? Wie was hier dapper genoeg? Daar wou Orchis wel antwoord op. Eens zien wat voorn vlees er in de kuip lag, want aan watjes had hij niks aan.
Onderwerp: Re: Fresh [open] do 7 apr 2022 - 15:24

---

Hexía hoorde het luide geluid buiten en hoewel ze niet veel interesse leek te hebben behalve naar haar mama's melk. Waren de geluiden interessant genoeg om de jonge kitten de Nursery te doen verlaten en met grote ogen het schouwspel van vechttende katten te bekijken. Als ze ouder was geweest had ze misschien geprobeerd om zich verder van de Nursery te verwijderen en langs een apart ogende kat zich in de menigte te vermaken. Alleen was ze klein, en hoewel ze geïnteresseerd toekeek durfde ze niet al te ver van mama weg te gaan. Toch stapte ze onhandig richting de General voordat ze de beweging van een van de Member probeerde na te doen. Hij sloeg met een poot, kon zijn ook met een poot slaan? Verward hield ze haar kop schuin. Dit was.... Anders.